Archive for the 'Mike' Category
Sunday, June 29th, 2014
Or, I went to Yankee Stadium and all I got was this lousy alternator!
Yesterday had been planned out for weeks. The plan was to go to Yankee Stadium to watch the Red Sox destroy the Yankees, but get to the Bronx several hours before the game to relax a bit, grab a bite to eat, etc. It was a day to be spent with friends, generally having a good time.
The day started out perfectly fine. We were taking two cars, and everyone was to meet at our house around noon. The plan was to drive an hour and a half, then take a train the rest of the way (another hour and a half) to the stadium. Some twenty minutes in, Mike notices the battery light is on. Seems like an odd thing to happen out of nowhere, so we pull into the next rest area, park and restart the car. It started up just fine, nothing seemed out of the ordinary except the battery light. Not knowing what was going on, we pulled back onto the highway and kept going. We got maybe another forty-five minutes in and the car starts coming to a slow, no matter how much gas Mike gave it. When you're in the middle of the highway with cars coming up behind you at like 80mph and you're slowing down, it's a good time to panic. Luckily Mike was able to get to the shoulder right before the engine shut down completely.
Tuesday, June 3rd, 2014
Dear Scruffy,
(Scruff, Scruffikins, Scruffy-Wuffy, Scruffington…)
We had a lot of silly names for you. 🙂 It's been three days now, and I miss you more than ever. Saturday was one of the hardest days I've ever had to endure. To wake up and find that you had left us in the middle of the night was absolutely heartbreaking. I'm glad I spent Friday evening cuddled up with you on the couch, and I'm glad that Mike never left your side the entire night. It comforts me greatly knowing that you were surrounded by an immense amount of love in your final hours. And I know that love was reciprocated, as your little purring motor was in full force.
I still find myself looking for you every time I come home, and then the realization sets in. It's definitely hard, and it's going to take some time to work through. After all, you've been part of our lives for fifteen years. We've had a lot of happy times together, and you certainly gave us a lot to smile about:
It didn't matter than I had just put your food down, for as soon as I made dinner for Mike and I, you decided that ours tasted better. I will miss the way you used to race to the fridge as soon as it opened, hoping for a piece of cheese. You were the only cat I knew that would literally beg. You'd stand on your hind legs and put your little paws together in an up-and-down motion and meow like crazy for that cheese, and of course, I always gave in. How could I resist that charm? I'll never forget the silly way you used to lay, the front half of your body laying down on me, but your back half standing up. It looked so uncomfortable to me, but it seemed to have suited you just fine. Or how your tail was constantly in the shape of a question mark whenever you were walking around, lol. How about all those times when you jumped up on the bed, and I sent you back out of the bedroom, only for you to turn right around and do it again (and again and again)? You were a persistent little girl, that's for sure. Even when you did something bad, we could never really be mad at you. You worked your way right into the core of our hearts, and not a single day will go by that we won't miss you terribly.
Yesterday I thought I saw a cat go under the kitchen table, and I was so sure that it was Littles, but she was in a completely different room, so I'm convinced now that it was you, especially since that was one of your favorite places to lay. And I'm sure I've been hearing faint meows also. I'd like to think that you're here with us, watching over us and letting us know that you're okay.
When you left us, I cried so much throughout the day that my entire face hurt. And I know that when you come home tomorrow, I will likely be the same way. I will never forget you, and I will always reflect fondly on the good times we've shared. I love you so much, my sweet little Scruffy, and I will see you again someday. ♥
Love always, your human. ♥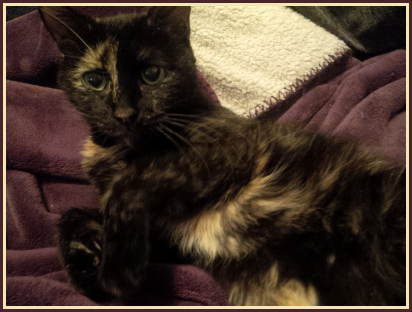 Monday, May 19th, 2014
I don't think I've ever talked about this in-depth, but after what just happened to me, I thought it might be interesting to discuss…
Most people know I have a fear of bugs; I've never been shy about hiding that fact. But I don't think until today did I realize just how far my fear stretched.
In general, I can deal with little bugs. Ants, and the like. Anything bigger, and I will revert back to my little-kid self and somebody will have to come and kill it for me. This is especially true for creatures that fly (or jump). If I'm home alone and spot a bug, I will close the door to that room and move to another one until Mike comes home and can find and kill it. If there's a bug in the way of where I'm walking, I will find another way, even if it takes me longer. I have been this way for as long as I can remember.
So this morning… I took a load of laundry down to the basement. I had the clothes in the washer, detergent poured in and about half the quarters in their slots. It was then that I noticed a plump, black…something. I freaked. Initially I thought it was the biggest spider I'd ever seen, but because I refused to get near it, I couldn't be sure. Then, as if that wasn't bad enough, I noticed something even bigger crawling out of the floor drain. It was about an inch in length, maybe (probably) longer, black, brown, lots of legs and what looked to be a pair of wings, but again, I couldn't be sure. I watched it for a few minutes (it felt like hours…) and that's when I realized the spider-looking one was dead. I returned my attention to the thing that crawled out of the drain (if that's not a bad sci-fi movie, I don't know what is) and my first thought was it looked like a beetle. Or a cockroach. A larger-than-life beetle or cockroach. I started to have what I think was a panic attack; I was shaking, breathing heavy, and then came the tears. I was completely petrified and afraid to make any sudden movements. I thought about just leaving and returning upstairs, but I didn't know what to do about the clothes in the washer. When the thing made its way to the other side of the room, I very slowly made my way back over and finished putting the rest of the quarters in and got the machine going. And then I made a beeline for the stairs.
That was about an hour and a half ago. I need to go back down and change the clothes over to the dryer, but I don't honestly think I can. Mike is trying to calm me down via texts, but he won't be home for another six hours, and as much as I don't want to leave the clothes sitting in a wet pile for that long, I might have to.
They say in order to conquer your fears, you have to confront them. But how do you do that when you're having a meltdown over just the thought of going back? Do I cover myself from head to toe in the event that it bites or stings? Do I arm myself with some kind of weapon? (Something long-handled, such as a broom? Chemical warfare, such as Raid?) What if I go back and it's nowhere to be found? That would be worse yet. I know people have all kinds of fears and phobias, but sometimes I feel like I'm alone with this. It's not "just a bug" to me. It's much, much worse.
As of now, I can't do it. I can't go back there. I'm going to have to wait for Mike. And even then, I still don't know whether I'll be able to follow him into the basement. It seems like such a simple thing, and for most people, I'm sure it probably is. But for me, it's become this huge ordeal that's now affecting my daily life. What to do? Sigh.
[EDIT]
When Mike came home, he promptly went into the basement to switch the clothes over. He then came back up to get a broom. The plump, black dead thing was even too big and creepy for him to get close to. He wouldn't even kick it out of the way with his shoe, hence the broom. This is a guy who isn't afraid of bugs, so imagine how I must've felt with a phobia. Unfortunately, the unidentified drain-crawler has decided to go into hiding. I think Mike thinks that I'm exaggerating its size, but I assure you, I'm not. Needless to say, he will have to do the laundry from now on. I can't go through that again.